See Video: Here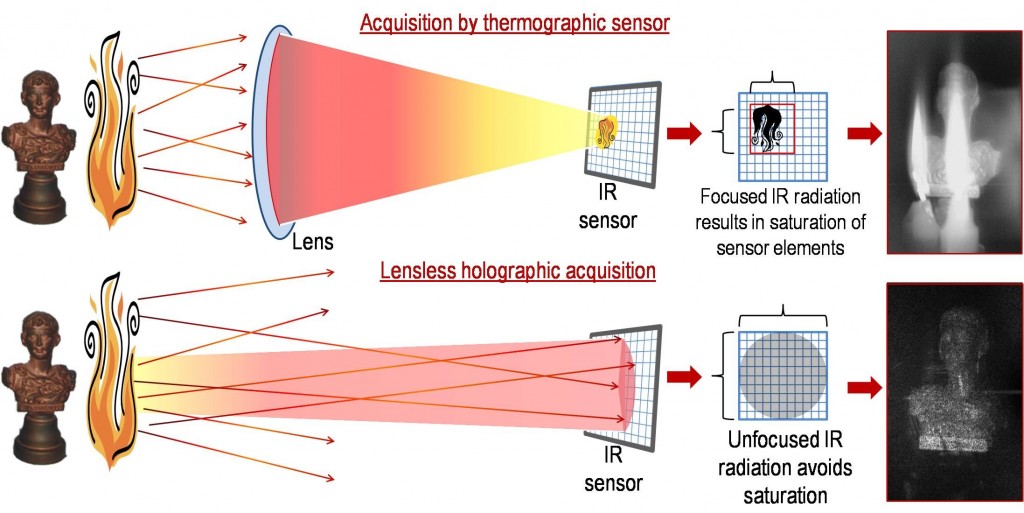 A comparison of a traditional imaging system: the view of a man is obstructed by flames, and a new technique using digital infrared holography, where the viewer can see a man standing and waving his hand behind the flame.

A great challenge for firefighters is seeing through smoke to find those trapped in structures engulfed in fire. If a firefighter has the latest high-tech equipment he can see though the smoke to find victims, but what if the victim is surrounded by flames? Often that scenario overwhelms an infrared camera so that it can't see anything but the fire itself, not what's beyond.  A team of Italian researchers has developed a new imaging technique that uses infrared (IR) digital holography to solve this problem of seeing through flames.  Studies showed that the camera lens was part of the problem. As most zoom lenses are, they are designed to hyper-focus the infrared light or energy onto a specific area on the sensor located inside the camera.  But researchers found if they removed the lens with the aid of scattered infrared laser beams that can pass through intense heat and flames they were able to create an 'ghostly' holographic image of a person behind a wall of flames.
"Unlike visible light, which cannot penetrate thick smoke and flames, the IR [laser] rays pass through largely unhindered. The IR light does, however, reflect off of any objects or people in the room, and the information carried by this reflected light is recorded by a holographic imager. It is then decoded to reveal the objects beyond the smoke and flames. The result is a live, 3-D movie of the room and its contents."
With traditional non-thermal infrared recorded holographic images the subject must remain still for each frame. With this technique using infrared, scientists prove that recording holographic images while movement is present can be done for the first time.  This technology can have wide range of applications other than firefighting.  Potential uses could range from  biomedical field to non-destructive testing of large aerospace composite structures.
More:  http://bit.ly/14elptp