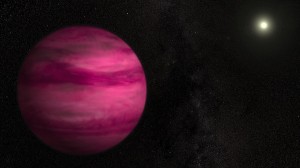 Photo: Glowing a dark magenta, this image is an artist's representation of the alien world. Click picture for greater detail. Credit: NASA's Goddard Space Flight Center/S. Wiessinger
Astronomers have snapped a photo, using NIR cameras, of a pink alien world that's the smallest (lowest-mass) exoplanet yet found around a star like our own sun. The proper name for this alien planet is GJ 504b, is cold with few clouds and it likely has a dark magenta hue, infrared data from the Subaru Telescope in Hawaii revealed. "If we could travel to this giant planet, we would see a world still glowing from the heat of its formation with a color reminiscent of a dark cherry blossom, a dull magenta," study researcher Michael McElwain, of NASA's Goddard Space Flight Center in Greenbelt, Md., said in a statement from the space agency.
Although the gas planet is the smallest ever found around a sun-like star, it's still huge — about four times the size of our solar system's gas giant Jupiter. It lies nearly 44 Earth-sun distances from its central star, far beyond the system's habitable zone. The newly found 'pink planet' has cause for alarm for scientists as it challenges common held beliefs in traditional models on how planets are formed due to its size and massive distance from it's host star.
More: http://www.space.com/
Though it is the smallest alien world caught on camera around a sun-like star, the gas planet around GJ 504 is still huge — about four times the size of Jupiter. It lies nearly 44 Earth-sun distances from its central star, far beyond the system's habitable zone, and it has an effective temperature of about 460 degrees Fahrenheit (237 Celsius), according to the researchers' estimates. – See more at: http://www.space.com/22265-small-alien-planet-direct-photo.html#sthash.5nm6dAjg.dpuf
Though it is the smallest alien world caught on camera around a sun-like star, the gas planet around GJ 504 is still huge — about four times the size of Jupiter. It lies nearly 44 Earth-sun distances from its central star, far beyond the system's habitable zone, and it has an effective temperature of about 460 degrees Fahrenheit (237 Celsius), according to the researchers' estimates. – See more at: http://www.space.com/22265-small-alien-planet-direct-photo.html#sthash.5nm6dAjg.dpuf