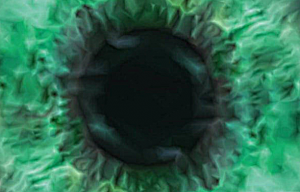 Researchers at Washington University in St. Louis, Missouri, were able to get subjects to see in the infrared with the naked eye. Researchers used infrared laser beams (pure focused infrared beams) at different wavelengths to conduct their experiments. The key to their safety in these experiments and ultimately it's usefulness in medicine was using a less powerful infrared laser beam, not one that can damage the retina like conventional laser pointers used in lecture halls or as toys.
There were reports in the past of humans could see infrared light in scientific literature during experiments, but they were unexplained and thus the myth remained human retinas were incapable of seeing 'invisible' infrared. For researchers at Washington U. to conduct their experiments, laser pulses of different duration were delivered with the same number of photons, defined as the particles that make up light whether visible or invisible like infrared. Their findings: if the infrared laser pulse was short enough to 'stack' the photons picked up by the photoreceptors in the retina, two photons hitting the retina instead of one, it caused the invisible wavelength to mimic a visible wavelength half it's strength, becoming a wavelength visible to the naked eye. The key is to get the beam in the visible spectrum or the 'rainbow' which is in the 400-700 nanometer range. At near infrared (NIR) 1,000 nanometer wavelength, with two photon hits, it became a 500 nanometer photon thus in the visible wavelength range. By making the pulses short in order to bombard the retina the subjects didn't see 'pulses' but instead saw a duration of light. In standard vision, only one photon is absorbed at a time by your photoreceptors on the back of the retina, which then create a molecule called a photpigment read by the nerves leading to the brain creating vision.  The benefit to all this is whereas using visible-wavelength lasers might damage the retina in potential medical treatments, this technology will develop new tools to examine the healthy eye by stimulating specific parts of the retina to see if it is properly functioning. By doing so doctors can learn more about our eye's structure and function not only in healthy eyes but in people with retinal diseases such as macular degeneration.
In case you were wondering, all 30 volunteers described infrared as very short pulses of pale green light and longer pulses of reddish light.