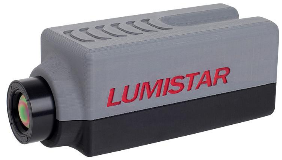 TURN IT ON. SEE THE THREAT.™
The Lumistar C3x™ features an ultra-compact, rugged high-resolution thermal imaging camera that is compatible with a ThermalShield™ enclosure with computer controlled electo-static heater and optional mesh guard. With a compact and lightweight design it can be mounted in hard-to-reach locations. Images can be viewed on a stand alone video monitor or connected to an existing CCTV video recording network. DVR options also available.
2-second power on time, plug and play.

Sharpening filter, on board digital software enhancement.

Has an extensive and advanced set of built-in measurement functions allowing the camera to be used "stand-alone" without a PC.

Use to improve your industrial operational efficiency.

Enables you to monitor the areas most vital to your business.

See the same day or night.

Multiple color pallets to choose from: red hot, black and white, or spectrum.

'Always in focus' technology.

Ideal for individual or networked (multiple camera) installations.

Small and sleek able to put in small areas.

Operate under hostile shock, vibration, and temperature conditions.

Lumistar cameras are precision engineered so you can increase confidence, productivity, and operational efficiency.
ThermalShield™ enclosure compatible.
Request more information.