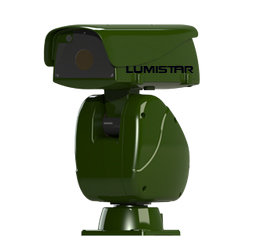 TURN IT ON. SEE THE THREAT.™
The Lumistar R5 Heatseeker features an ultra-compact, rugged high-resolution thermal imaging camera complete with multiple connectivity interfaces and a ThermalShield enclosure. With a compact and lightweight design it can be mounted in hard-to-get-at locations. The Lumistar R5 is available in RJ-45 Ethernet models and can be used for individual or networked (multiple camera) installations. Each Lumistar R5 can be assigned a unique IP address, allowing it to be addressed via its network interface. This provides instant access to the Lumistar R5 images by authorized users via LAN, WAN, or the Internet using a web browser. The camera can also be configured via a network.
Multiple user capability across the network

Preset alarm function that can be set to send by e-mail or other notification method

Non contact radiometric temperature measurements

Compact, rugged, and lightweight

Durable for extreme weather or environmental conditions

Wide temperature range

Interchangeable color pallets allows operator to see image in the color of his or her choice

The R5 features an internal web server, which makes it very easy to remotely control the camera over the Internet
Request more information.